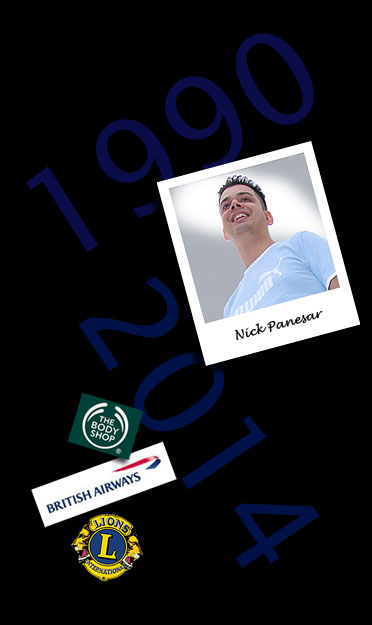 A brief history

In the summer of 1990, Nick Panesar joined forces with Pervinder Gujral to form "The Obsession Crew". The name originated from a suggestion made by Pratish Aggerwal, founder of Fantronic Records, which immediately catapulted The Obsession Crew into uncharted territory. Their motto "For any type of session, Call Obsession" became a byword for their delivery.
Since their formation, The Obsession Crew has been heralded as one of the most successful mobile discotheques in the UK.
Today, you will find Nick Panesar heading up The Obsession Crew. From past to present, The Obsession Crew have continued to demonstrate expertise in music DJs, sound engineers, lighting architectures and event managers to befit the needs of all their clients.

Accreditations:

The Obsession Crew have worked with internationally renowned artists and bands alike. This includes Jagjit Singh, Gurdass Mann, the late Nusrat Fateh Ali Khan, Kuldeep Manak, Manmohan Waris, Hans Raj Hans, Bina Mistry, Apna Sangeet, Heera, Alaap, Premi, Malkit Singh, Sophia, Pardesi, DCS and Ministry Of Dhol.
In collaboration with these renowned artists, The Obsession Crew have extended their reputation internationally and have had the opportunity to entertain audiences from Toronto, Chicago, LA, Ireland, Germany, Madrid, Norway, Italy, Vancouver and Pakistan, placing them firmly in the global market place.
The Obsession Crew have also been called upon to work with schools such as North Primary School and Villiers High School to set up discos, fairs as well as local and national fund raising events.
Corporate clients have also benefited from the skills and experience of The Obsession Crew: British Airways, United Airlines, Lion's Club International, Ramgharia Board, Ismali Centre, Sai Entertainments and Body Shop to name but a few.
Your guarantee of Satisfaction….
The Obsession Crew takes pride in the quality of service that we provide and believe in owning our customers. This is why we will make time to take you through the whole enquiry/booking process personally. From the first initial contact, explaining all the services and packages that we offer, through to tailoring these to meet your specific needs and finishing off with performing at your function, we will do everything ourselves and do not involve a third party.
The Obsession Crew only run one Roadshow. This means that we can only perform at only one venue at any given time. This is good news for all of our customers because it ensures that they always get the same quality of service which Obsession are renowned for. All our customers will always get "The Real Deal" and "What You See Is What You Get" every time. It is quite common for other DJ's/Roadshows and mobile discotheques to act like agencies where they take on as many bookings as they can and will send amateur DJ's and third party Roadshows to functions booked with them. Customers normally book a DJ based on their performance, however after making the booking through one of these agencies, there is no guarantee that you will get the same DJ that you may have seen performing at a particular venue. This may ultimately ruin one of the most important days in your life.
Since all of our potential customers may not have seen us perform, we can arrange for a meeting at one of our functions. This is normally recommended because it provides them with a clear insight to the products that we have on offer and the quality of service that they will receive from us. If you are unable to attend one of our functions for any reason, we can arrange for a personal visit depending on where you are located. This ensures that your full needs are taken into consideration before we make any suggestions and tailor your package.
Each function is tailored to your personal requirements, venue and budget. We do not have a preset routine which is predictable, each track is individually chosen depending on the response we had from the public and we can cater for all types of musical taste. You will not hear the same set of songs in the same order as a previous show. Contact us to find out how we can tailor your package for any type of session.